< Back
| Showing articles from "05-2022"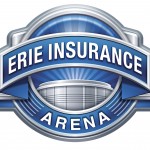 ERIE, Pa., May 19, 2022 – Erie Insurance Arena will retain its name until at least 2033, thanks to a naming rights partnership extension reached today between Erie Insurance (ERIE) and the Erie County Convention Center Authority (Erie Events).

Erie Insurance first secured the naming rights for Erie Insurance Arena in 2012, an agreement that helped support a $47 million renovation and expansion project at the venue that was completed in 2013. The original 10-year agreement ran through 2023, and the extension announced today will continue that partnership for another decade. In consideration of the sponsorship, Erie Insurance will contribute $4 million, paid in annual installments, to Erie Events over the 10-year period.

According to Erie Insurance President and CEO Tim NeCastro, extending the agreement and providing a consistent source of revenue for Erie Events is part of the company's longstanding commitment to the region.

"We're excited to continue our partnership with Erie Events and extend our sponsorship of Erie Insurance Arena through 2033," said NeCastro. "Erie has been our home and namesake for nearly 100 years. Our roots are here, and they run deep. We're proud to have our name on this premier sports and entertainment venue in the heart of Erie's downtown cultural district — steps away from our corporate campus."
For nearly 40 years, Erie Insurance Arena has been providing family-friendly, world-class entertainment and sports to the Erie community and tristate region. Offering modern suites, a club level and large capacity seating, the arena boasts many amenities only found in major market venues. Every year, nearly 400,000 patrons attend events at the arena which generates more than $42 million of direct spending to the City of Erie.

"The venues operated by Erie Events help create a vibrant downtown and make a significant positive impact on the local economy and small businesses in the neighborhood," NeCastro added. "We appreciate the opportunity to be a part of that vibrancy and look forward to the next decade of this mutually beneficial partnership."

According to Erie Events Executive Director Casey Wells, Erie Events has enjoyed a longstanding partnership with Erie Insurance and is grateful for the company's continued commitment to arts and entertainment in Erie. Not only has Erie Insurance supported the arena, but ERIE also donated to the Warner Theatre renovation and expansion project. The historic 1931 movie house has been fully transformed into a 21st century performing arts center.
"Erie Insurance is an essential strategic partner for Erie Events," said Wells. "ERIE's commitment to our downtown sports and entertainment district is deeply appreciated and enables us to make Erie an exciting place to live, work and play."
Read full article