Disney Junior Live On Tour: Costume Palooza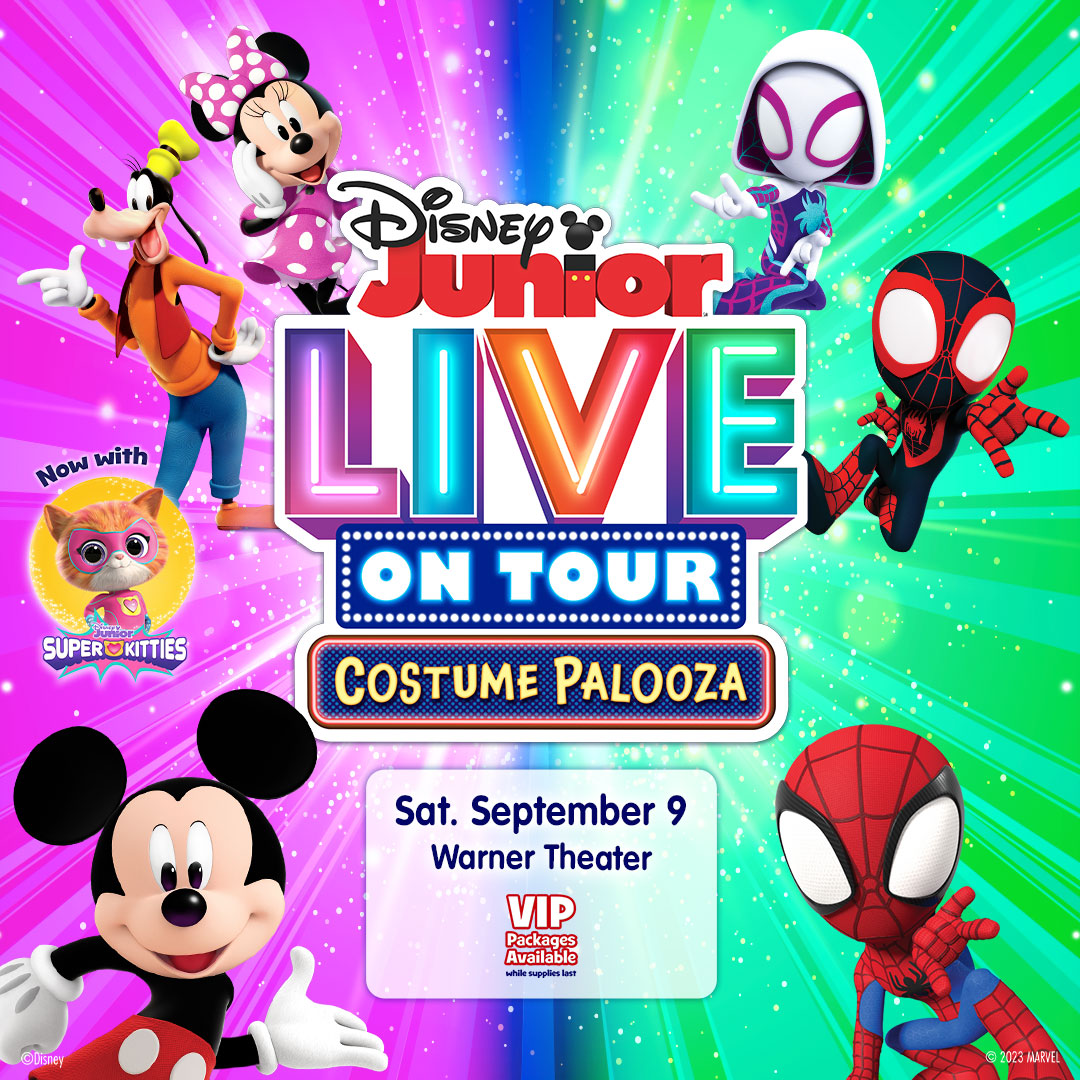 Saturday, September 9; 2023
Show 4:00pm
Doors 3:00pm
Warner Theatre
The three-time Pollstar nominated Disney Junior tour is back with Disney Junior Live On Tour: Costume Palooza! This show brings beloved Disney Junior characters and favorite Marvel Super Heroes live on stage for a jam-packed, concert-style show with singing, dancing, acrobatics, and more. It will feature favorite songs from hit Disney Junior series, as well as new original music. Mickey, Minnie, and their pals are getting ready to throw a huge costume party, but mysterious green rain, wind, and smoke keeps interrupting the fun. Can Spidey and his Amazing Friends help save the Costume Palooza? Come join the party and see Mickey, Minnie, Goofy, Doc McStuffins, the Puppy Dog Pals, Bo from Firebuds, Ginny from SuperKitties, and Marvel's Spidey and his Amazing Friends LIVE on stage!
VIP PACKAGE
$175.27

One (1) Premium Ticket To The Show
Admission To The VIP Pre-Party Interactive Experience*
Character Greeting With Mickey, Minnie & Spidey Before The Palooza Performance**
One (1) Collectible VIP Party Pass & Tote Bag
VIP Snacks & Refreshments
On-Site VIP Experience Host
*please note, all ticket holders -- both children & adults -- are required to purchase a VIP Package in order to attend the VIP Party.
**Characters are subject to availability
***This VIP experience may be altered to comply with health and safety guidelines and policies, including but not limited to suggested and/or mandated local, state, and federal government regulations in effect at the time the event occurs. Please note social distancing measures may be put in place for this experience. Package contents are subject to change at any time.
Tickets are $53.75, $46.00, $32.50 + fees and can be purchased at the Erie Insurance Arena box office or by calling (814) 452-4857
Children ages 1 & up must have a ticket